How to choose diamond core drill bits
1. Decide on the material to be cored.
Diamond core drill bits
are commonly used for coring concrete, granite, ceramic tiles and other hard materials. The formula of the diamond core drill bit depends on the material you want to drill.
2. Find out the diameter of the hole you need and the working condition is wet or dry, as well as the thread type and working length.
3. Choose the right diamond core drill bit for your tool. Different cutting materials use different formular of diamond core bit segments. Diamond core drill bits are manufactured for single drills, conventional drills and Dremels.
4. Consider buying diamond core drill bits in large quantity. The working life of diamond core drill bits is short, because the heat generated by drilling will eventually wear out the diamond from the diamond segment. If you plan to use
diamond core drill bits
for many projects, this will save you money.
5. Check the product label carefully. Don't just choose the first diamond core drill bit you see. Some products have clearly marked their intended use, such as drill granite, ceramic, etc.
6. Made sure if you need fast or long cutting diamond core drill bit. For America, European countries, Australia and the developed countries, most of them like sharp & fast diamond core drill bits, for the developing countries, customers think about the cutting life more.
ChinShine make a series of
diamond core drill bits
for concrete, such as Arix diamond core drill bits, roof turbo diamond core bits, Aero core bits segment, etc. ChinShine concrete diamond core drill bits have a high diamond count with great grade diamonds for superior cutting performance and long working life for wet use applications.
Welcome to
buy diamond core drill bits
from China professional manufacturer.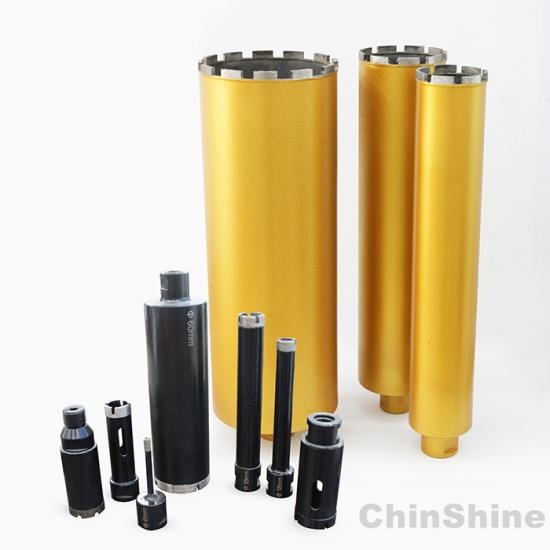 Related Articles:
a. Where To Buy Best Diamond wall saw blade for Concrete?
b. Diamond blade and diamond core drill bit distributor in Australia
c. Buy Concrete Diamond Blades for Building Contractors.
d. How to use diamond wire rope to cut concrete?
e. Concrete Saw Blades – Diamond Blades
f. Why are the ChinShine prices higher than those from Jiangsu and Hubei companies?
Previous:Diamond Cutting Disc - What is the difference between Dry and Wet Cutting Next:9 things you need to know about diamond core drill bits
Thank you for your interest in the above content, please leave us inquiry, you can expect a response within 24 hours.
Required fields are marked *